We are a family owned and operated business, with over 32 years of experience repairing major appliances. We have been proudly serving Colorado Springs, CO since 1995. We provide service to all areas of El Paso County - seven days per week. There are no extra charges for nights, weekends or even holidays! We are an accredited member of the BBB.
We repair all major appliances: Refrigerators, Freezers, Washers, Dryers, Ovens, Ranges, Ice Makers, Microwaves, Dishwashers, Garbage Disposals, and Trash Compactors.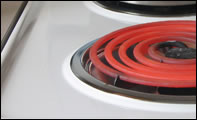 FREE SERVICE CALL WITH REPAIR + ONE YEAR WARRANTY ON ALL PARTS AND LABOR

You pay NO trip charge when a repair is made! Your appliances troubles don't have to be another headache! Call the company you can trust to get the job done right.
Call Us Today: (719)574-5390
in Colorado Springs
(719)488-5518
in Monument/Tri-Lakes

John Celi, owner of Anytime Appliance Repair, has been in the appliance repair business for over 32 years. He is also the award winning inventor of the Save Your Floors Under-the-Dishwasher mat.
"Spare yourself thousands of dollars in damage related bills and countless hours of frustration by preventing damage to your floors with a Save Your Floors mat. This mat installs easily beneath your dishwasher and is an excellent low-cost investment for any home. This mat is a simple but effective solution to a common problem. The creator of the mat saw the opportunity for people to avoid the costs and hassles associated with water damage in the home. We're all concerned about water damage in our homes, and with this device your mind will be at ease."
Want to learn more? Check out SaveYourFloors.com!

YOUR TIME IS MONEY, TOO. LET US SCHEDULE AROUND YOU!
We offer fast, same day service in most cases, and we will work around your schedule for the most convenient times.
Anytime Appliance Repair
Providing In-Home Appliance Repair for ALL MAKES AND MODELS of Major Appliances in Colorado Springs, CO. We Strive to Bring You the Most Pleasant Experience Possible, at Affordable Prices!